Executive Director, Principal Conductor and Musical Director - Cynthia Morrow
Cynthia Morrow is a graduate of New England Conservatory of Music, holds a Master of Arts in Psychology from Antioch University, LA, and a Doctorate in Clinical Psychology from Ryokan College, LA. She studied violin with Gabriel Nevola, Samuel Applebaum, Robert Brink, and Cecylia Arzewski, and was a member of Joseph Silverstein's Master Class. She studied chamber music under Rudolph Kolisch, and conducting and composition with Gunther Schuller. She was a member of the Portland Symphony in Maine under Paul Vermel, played principal viola in Los Angeles with Downey Symphony, LA Jewish Symphony, California Chamber Orchestra, Symphony in the Glen, and was a member of Glendale Symphony, American Ballet Theater Orchestra, and LA Civic Light Opera. Morrow has been a member of The New Ysaye Quartet, Tsunami Quartet, Luminarias Duo, and Gaia Viola Quartet. She has performed in Las Vegas and in the Hollywood studios as a violinist, violist, vocalist, and has been a composer, award-winning singer/songwriter and lyricist for more than thirty years before moving to Kirkland, WA. In 1979 she conducted the World Song Festival in Seoul, Korea, where the song she co-wrote with Lennie Stack won top honors. She conducted string orchestras at Kirkland Community School, conducted and coached for Bellevue Youth Orchestra and Cascade Youth Symphony, and opened her own teaching studio, Violin & Viola Studio of Kirkland, turning out hundreds of string players, her students winning First and Second Place in State on viola year after year, and filling concertmaster and principal chairs on both instruments in their schools and youth orchestras.
Dr. Morrow and her husband Gary Hattal moved to Whidbey Island permanently in 2014. She now teaches, performs with pianist Sheila Weidendorf in Deux Femmes Musiques, is a member of Island Consort, has played with and been on the board of Saratoga Orchestra, and has been Music Director and Principal Conductor of Whidbey Island Community Orchestra since 2015.
2023-2024 Guest Conductor - Gabriela Garza Canales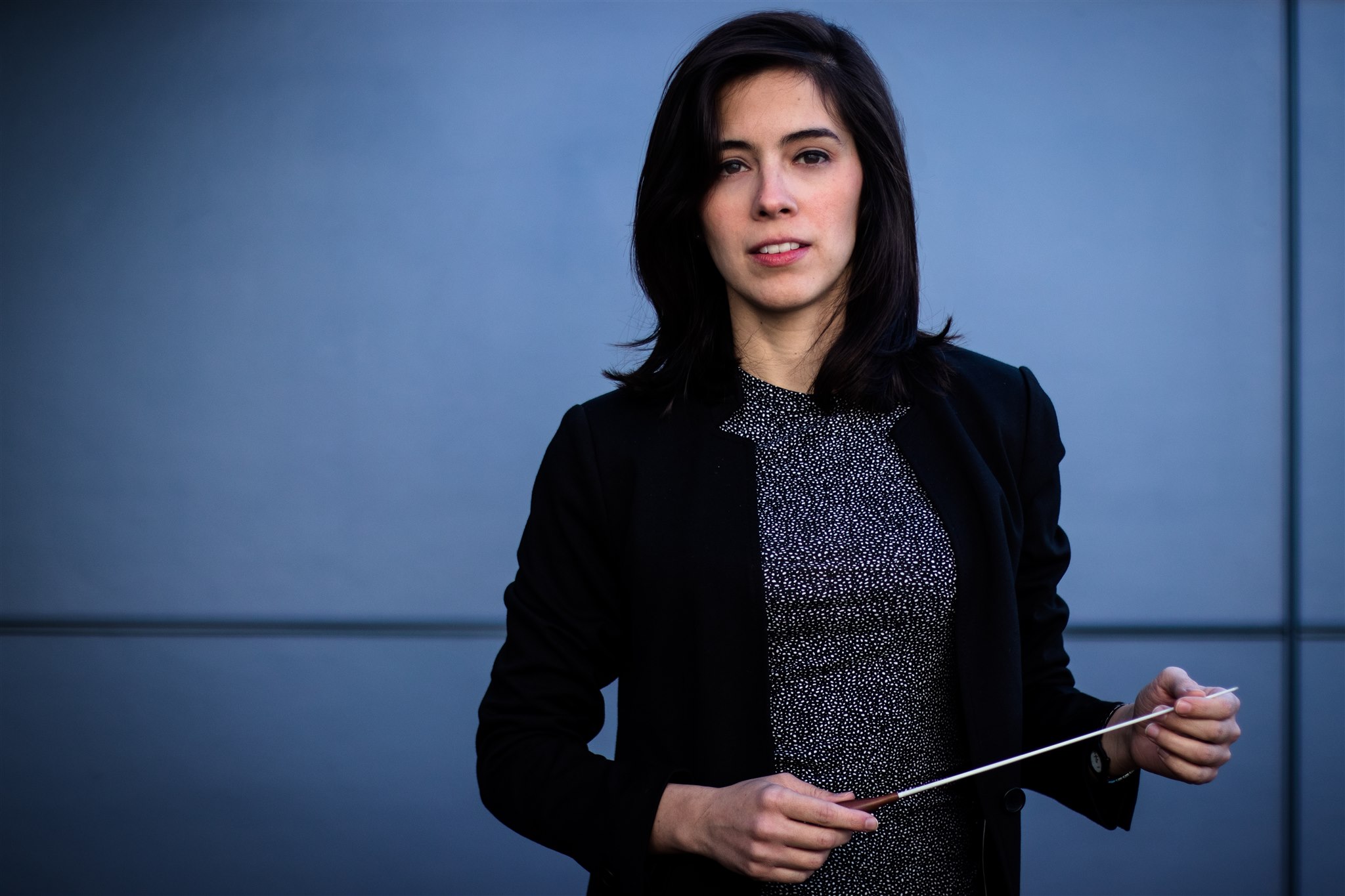 Gabriela Garza is a musician, conductor and percussionist currently living in Seattle, WA. Born and raised in Monterrey, Mexico, she moved to the United States in 2011 to pursue studies in music. Ms. Garza works at the Seattle Youth Symphony Orchestra (SYSO) as Artistic Associate of the orchestras, and as Manager of the Seattle Conservatory of Music. Additionally, at SYSO, Ms. Garza has served as guest conductor of the Junior Symphony Orchestra, and the Debut Symphony Orchestra, as well as assistant conductor for the Marrowstone Music Festival, and conductor of the SYSO Summer Music Festival.
Ms. Garza received a Bachelor's degree in Music Performance in Percussion from University of New Mexico (UNM), and a Master's degree in Orchestral Conducting from UNM as well. She moved to Seattle in 2017, to begin her Doctoral program in Orchestral Conducting at the University of Washington. During both her Masters and Doctoral studies, Ms. Garza served as Teaching Assistant of the programs, in which she worked with and conducted multiple ensembles such as the University of Washington Symphony Orchestra, the Campus Philharmonia Orchestras, UW's Modern Ensemble and the University of New Mexico Symphony Orchestra. Ms. Garza has served locally and abroad as guest conductor for a variety of orchestras and community ensembles such as the Bainbridge Symphony Orchestra, Whidbey Island Orchestra, Sammamish Symphony Orchestra, Seattle Collaborative Orchestra, Poulsbo Community Orchestra, Albuquerque Philharmonic, UANL Symphony Orchestra, and more. In her spare time, Gabriela enjoys spending time with her pup Zoey, kayaking, cooking, taking long walks, and playing board games.